I went to my ex-boss' son wedding last weekend, and as you may guess, I wore batik! This time, instead of wearing a dress, I picked out a different look: kebaya and draped batik.
The fabric I wore as a 'wrapped skirt' is this cheerful 2 toned handpainted Batik Lasem, which I recently purchased in Yogyakarta. Took a bit of practice to got it securely wrapped! ;)
Matched it with a loose blue-turquoise kebaya top and this brooch with green stones accent, and a pair of cheap earings :P. Really, sometimes even the cheapest stuff can look 'expensive' if you wear them right.
And here's the final look! A simple look, and rather out of my comfort zone, since I normally would pick form fitting blouse or kebaya. What do you think?
Day 5/30
Sharing with:
Mode Monday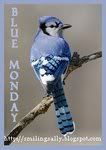 </>